Russian UFO engagements, secret 'Tic Tac' report and 3 key figures slip under radar at Congressional hearing
Investigative journalists Jeremy Corbell and George Knapp provided Congress with sworn testimonies, which were obtained by Fox News Digital, and flanked former Intelligence Community Inspector General at Wednesday's UFO
Navy pilots would see UFOs on a 'regular basis': Ryan Graves
Russian warplanes engaged UFOs, "chased them and even shot at them" at least 45 times by 1993, according to classified Russian documents that investigative reporter George Knapp obtained and smuggled out of the country.
That's just one snippet of information revealed in letters written by Knapp and investigative journalist Jeremy Corbell to the House's Oversight Committee before Wednesday's UFO hearing.
Both letters, which were first obtained by Fox News Digital and published in their entirety below, were entered into the Congressional record.
"Since 1969, the position of our military has been that UFOs pose no threat to national security and are not worthy of further study," Knapp wrote in his letter. "This dismissive attitude is directly at odds with what was revealed in documents, reports and internal memos."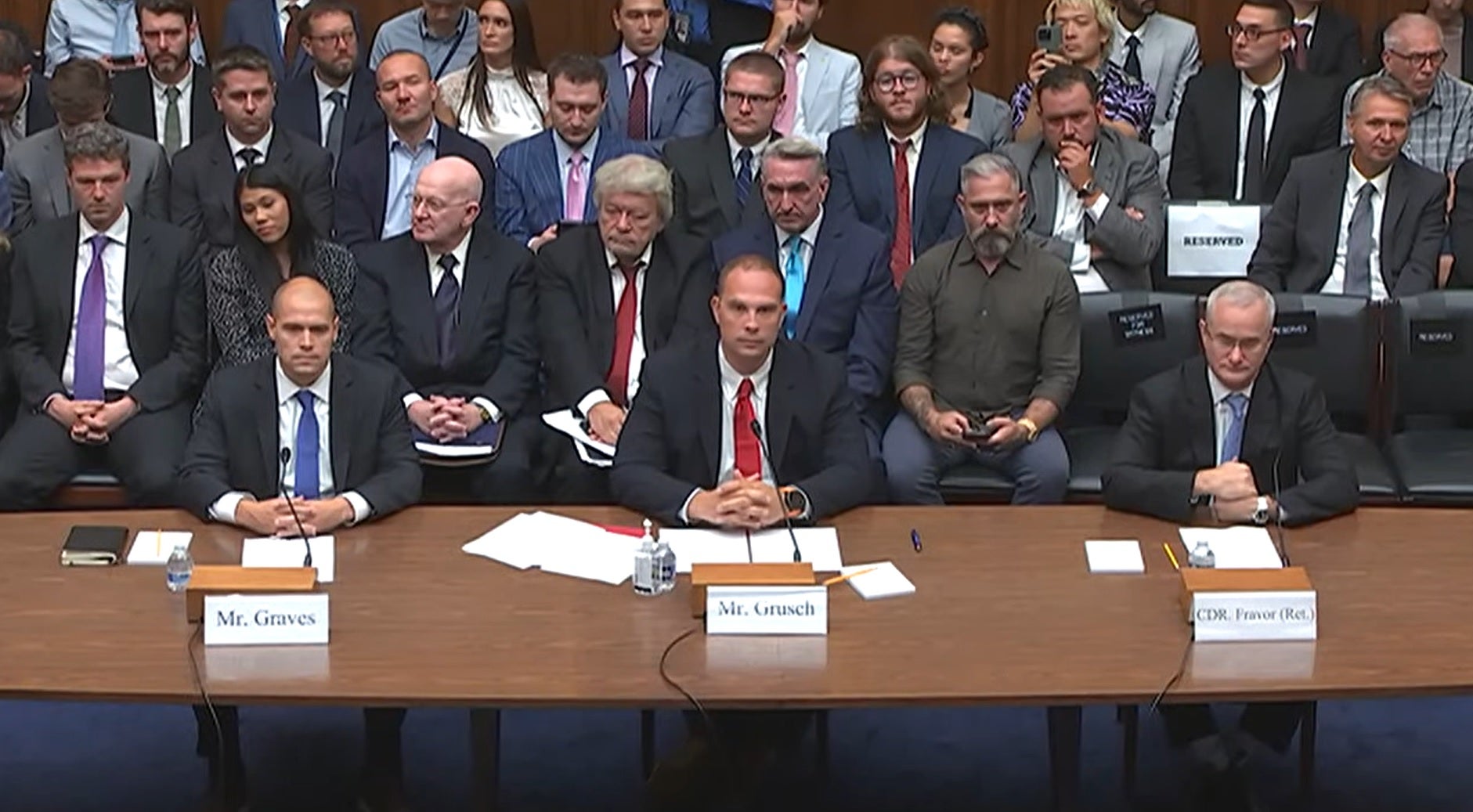 Former Navy pilot Ryan Graves, ex-Navy commander David Fravor and former U.S. intelligence officer David Grusch testify before the House of Representatives subcommittee focused on UFOs while (left to right) George Knapp (red tie left of Grusch), Charles McCullough (light blue tie) and Jeremy Corbell sit behind them (House subcommittee on National Security, the Border and Foreign Affairs)
As the country's eyes and ears were glued to three explosive testimonies, Corbell whispered something to Charles McCullough as George Knapp listened in with a smirk.
McCullough, who was President Barack Obama's former Intelligence Community Inspector General, represented Grusch in his Intelligence Community Inspector General complaint purposefully seated behind him.
These three men sat directly behind David Grusch, who was flanked by Navy pilots Ryan Graves and David Fravor during Wednesday's Congressional hearing about UFOs.f
Grusch's testimony about recovered "biologics" of "non-humans" from alleged UFO crash sites made national – and even international – headlines, while details in Knapp's and Corbell's letters went under the radar.
Knapp has been reporting on UFOs, now referred to as unidentified anomalous phenomena (UAP), since 1987 and had a direct relationship with Sen. Harry Reid.
And Corbell has become a go-to source for UFO whistleblowers and been acknowledged as essential in organizing witnesses for Wednesday's historic, bipartisan hearing.
Knapp said he first heard whispers about crashed UFOs, "strange materials and reverse engineering programs being carried out in secrecy in the Nevada desert by intelligence operative and defense contractors," in 1989.
That's what sparked his relationship with then-freshman Sen. Reid.
READ GEORGE KNAPP'S LETTER TO CONGRESS
He revealed Russia's 10-year study about UFOs, which he wrote "was likely the largest UFO investigation ever undertaken," that included thousands of case files from interviews with military personnel.
The program's director told Knapp about the Russian warplane dogfights with UFOs.
CONGRESSMAN HAS GRIM TAKE AFTER ACCESS TO UFO FOOTAGE: THIS TECH 'COULD TURN US INTO A CHARCOAL BRIQUETTE'
"In most incidents, the UFOs shot away at unbelievable speeds, but in three incidents, the Russian warplanes were dibbled and crashed. Two of the pilots were killed," Knapp wrote in his letter.
"After those incidents, the MOD (Ministry of Defense) issued a nationwide order that UFOs should be left because, in the words of a top Air Defense official, 'they may have incredible capacities for retaliation.'"
READ JEREMY CORBELL'S LETTER TO CONGRESS
He brought this information back to the U.S., but for decades the topic of UFOs and aliens were a taboo subject that could ruin a person's livelihood and career.
Then the 'Tic Tac' UFO, named after its odd shape, was engaged in 2004 by David Fravor, retired Commanding Officer of the Navy's Black Aces Squadron.
He described it as a "giant flying propane tank" that was "far superior to anything we had at the time, have today or are looking to develop in the next 10-plus years."
He described the object's physics-defying maneuvers and its lack of propulsion systems and control surfaces, such as wings or engines.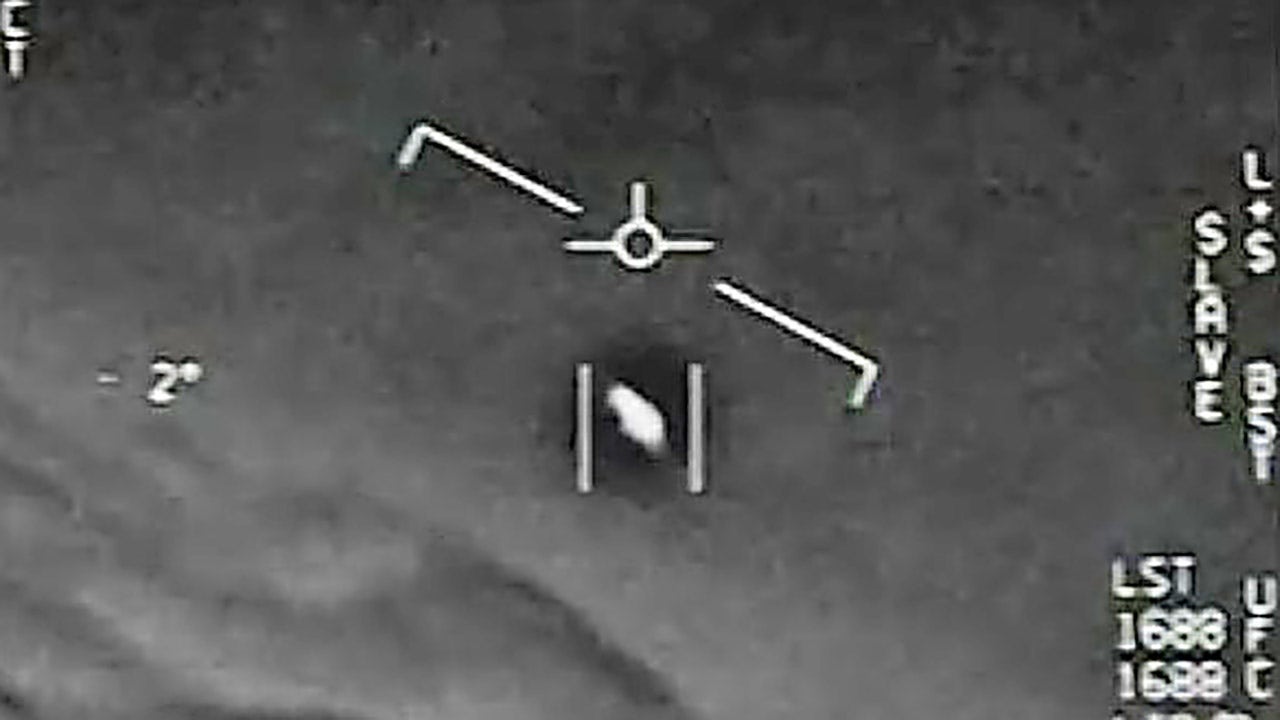 A new office dedicated to studying UAP (UFO) sightings has finally secured full-funding in the upcoming 2024 defense budget. (Department of Defense)
Fox News Digital has learned a 100-plus page scientific analysis for a contracted agency specifying the technological details and capabilities of the performance that was observed and documented during the multi-week, multi-vehicle "Tic Tac" UAP event series hasn't been available to the public.
NO MORE GOVERNMENT COVERUP
Over classification of UFO-related records and an alleged decades-long government coverup were the underlying basis of Wednesday's hearing.
Grusch, a decorated Air Force veteran, testified that the government "absolutely" has UFO tech and "biologics" of "non-human origins" since the 1930s and knows the exact locations where they're being held.
Because of an open whistleblower reprisal program case against him, he said he can't say anything more in a public setting.
Corbell wrote in his letter to Congress that the "UFO issue is emerging as a major topic of global importance"
"UFOs are real. This is objective truth – not a subjective reality," Corbell wrote in the first two sentences of his letter. "And UFOs – whatever they represent – have been present and part of the human condition since at least the beginning of recorded history."
The problem, Corbell says in his letter, is UAP "have proven that they can operate with impunity within our airspace" and occurs virtually every day.
"Most alarmingly, UAP are witnessed, documented and often captured on corroborative multi-platform defense sensors and targeting systems while displaying the capability to outpace, outmaneuver and outperform our most advanced military weaponry; or any other known technologically advanced terrestrial nation's military inventory and private industry holdings."
Rep. Tim Burchett, R-Tenn., who has spearheaded the fight for UFO transparency, said during the hearing, "We can't trust a government that does not trust its people."
After listening to the witnesses' testimony for more than two hours, Rep. Andy Ogles, R-Tenn., said there's "clearly a threat to the national security of the United States."
The House's hearing followed the Senate's bipartisan legislation to declassify and release UFO-related records that brought political foes like Majority Leader Chuck Schumer, D-N.Y., and Sen. Marco Rubio, R-Fla., together.
---
By Chris Eberhart